I was delighted to attend the Catex Exhibition at RDS, Dublin 2015 for the first time. I was in attendance for a few reasons. blink design are a corporate member of the FSPA – Food Safety Professionals Association. This is relevant to us and for our foodie/ hospitality clients as it means we can point Clients in the right direction on specific topics that they may need advice on. So on the Wednesday I was helping out at the stand for a few hours. We had also just sponsored the design of new business cards and flyers for the FSPA so it was great to give these out to all of the many interested visitors to the stand. It was a great opportunity also to meet other corporate members and members and there was a great buzz around the stand and the exhibition.
Another reason for being there was my other half Adrian Callinan is a chef and for the first time he entered into the Chef Ireland Culinary Competition. He entered the Competition Class 'Show Platter' and we were absolutely thrilled when we found out that he won a bronze medal. Adrian was also awarded 'Best in Class'. Fort thos eof you interested in what his entry entailed…His winning entry consisted of Nori Wrapped Terrine of Atlantic Cod with Dublin Bay Prawn in White Wine Jelly. Accompanied by Cucumber Towers filled with Wasabi Crème Fraîche in Mirin Glaze. Adrian was presented the award by Brendan O'Neill, Chairman of the Judges. See the photos below.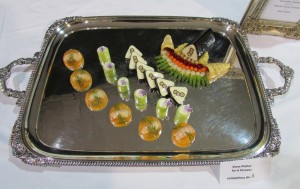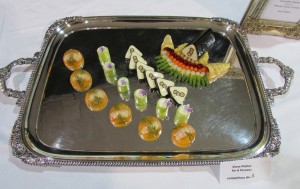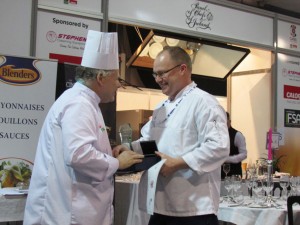 So it was a brilliant exhibition for us. I also really loved looking at all of the exhibition stands. Serious work and investment went into them and I am always interested in the branding and graphic design for exhibition stands, posters and banner stands so to be honest I was in my element. See a selection of my photos below.  I also had to add photos of some of the amazing competition cakes…Amazing!!