I decided to write a blog on this topic as it is an issue I come across on a regular basis unfortunately! Very often when we work with a client – in particular a new Client, we need to get our hands on their brand identity or logo artwork. This is imperative for brand consistency going forward. If we feel that their logo does not represent their current business, looks dated or doesn't engage with their target market, we can have a conversation and advise the client about rebranding but that's a whole other area and not the focus of this post.
The logo or artwork that I do receive depends on what stage the business is at, when it comes to their brand identity. Very often, when working with a business or organisation that has an established brand and they need us to implement any type of new promotional material, whether it be wallets, flyers, stationery, website, signage, exhibition or advertising – there can be many issues from a quality and consistency point of view relating back to the artwork we are given. 'Consistency' is and always has been our mantra at Blink Design, whether we are working with an established brand or working with a new brand and getting them established for growth.
When requesting artwork, I would always request what would be a designers favourite number one file – the '.eps' (Encapsulated Postscript) files which should contain any pantone references, and also hopefully versions which have the breakdown for Print (CMYK) and Screen (RGB/ Hex). Ideally, Brand Guidelines would also be supplied. This is the ideal scenario. This is really important for us and our Clients when we are handing over final artwork as we are guiding the Client on all elements such as fonts aswell going forward. Having the .eps file ensures consistency and it means that as it is vector based. This means that the logo (used correctly) could literally be put on the side of an airplane and not lose any quality!
Once a file is saved as a jpeg or a png or pdf it will print 100% quality at it's actual size which could be eg 15cm x 5cm. Designers would always supply these formats to a business which they have branded at the end of the process so that the Client has the .eps files for designers and signmakers, and the pdf, png, jpeg formats saved correctly for use inhouse etc. Clients will typically work with the jpeg or pdf files day to day. It is after this point that inconsistency over time can creep in. 
So back to my reason for writing this blog. Have you ever noticed perhaps the company logo you are working with in your word document or powerpoint presentation looks a little bit off?
Very often, we will receive a word document and this will contain most likely a jpeg of the logo in the page. The idea is that we are to copy this and paste into whatever design we are working on.  This creates numerous quality issues for us and I have covered the fact that I would always try to get the original '.eps'.  In the case of receiving a logo within a word document, see this diagram attached below for an example showing the Blink Design logo. The top version is 100% perfect and as it should be. The second has been distorted on purpose in height and the third on purpose by width. This act in itself that I had to do for the purposes of this blog was painful as it is a pet peave of mine to see this happen to any brand! J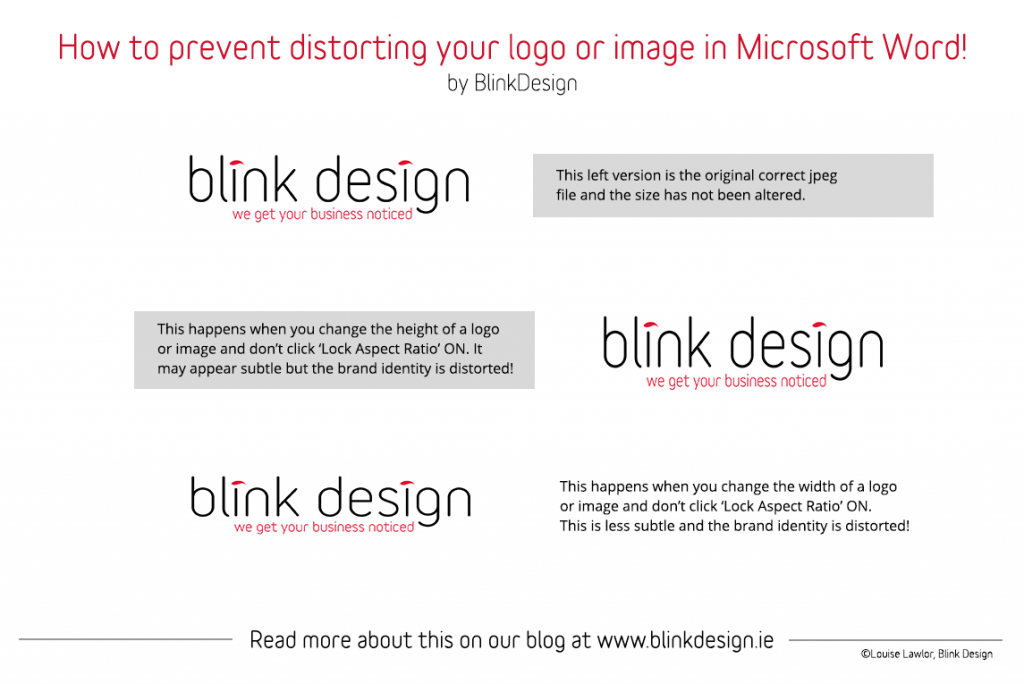 So in order to hopefully make it easy for you to understand how to resize a logo or photo in Microsoft Word (which is hopefully sharp and not distorted!) I have put together these instructions below.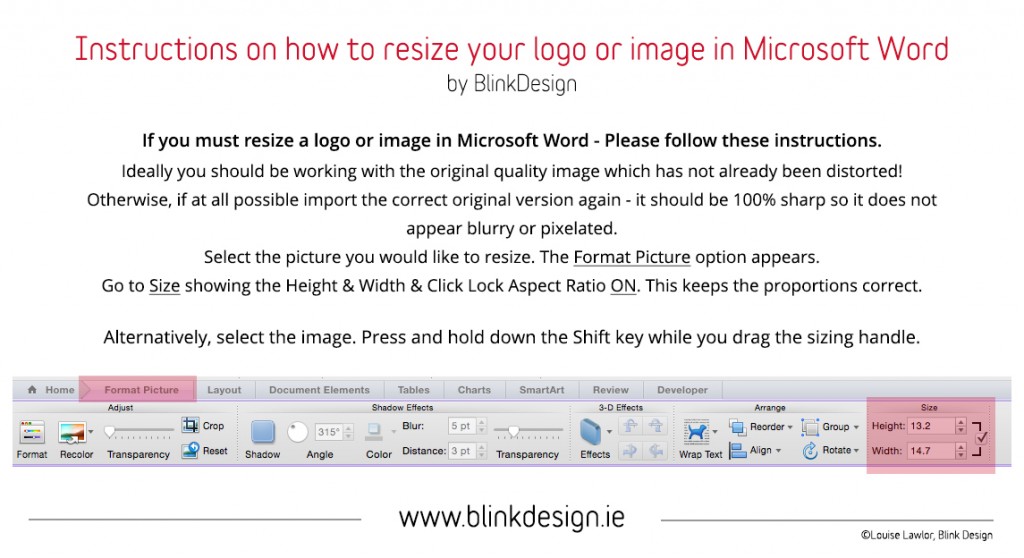 Hopefully this is of help to you and feel free to download this and pass on to your colleagues if you think it could prevent distortion of any files. If you have a niggling feeling like…ohoh I think the logo or image I am working with is distorted – even slightly! Then I would advise you go back to your original Master Artwork folder and Brand Guidelines or go back to your original designer if it was designed professionally to get the file again if you can't access them. You can show them the files you are working with and they will understand your request. I would then implement the correct file across the board on all literature inhouse and advise your colleagues on how easy it is to distort the brand. Think of the time, investment and work that has gone into getting the brand right and meticulous in every way, only to see it distorted, possibly even a few days later. 
If you have any questions on any of the above please feel free to contact us by email at info@blinkdesign.ie or by phone on +353 61 300111. If you feel you have this issue yourself and thinking – maybe it's time to rebrand or you can't get your hands on the original files, we would be delighted to be of help to you.
Louise Lawlor,
Creative Director,
Blink Design
Celebrating 15 Years getting businesses noticed.